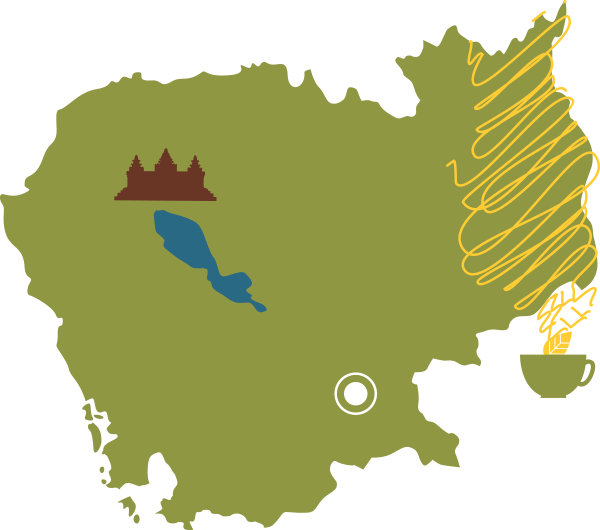 Our coffee
The coffee in Cambodia is primarily robusta coffee, grown in the Annamite Mountains that extend through the Cambodian north-eastern "highlands" of Ratanakiri and Mondulkiri provinces. Coffee farmers in these highlands are made up of indigenous tribes that have lived in the area since before the Angkor Era of Cambodia's history.
We are sourcing our coffee from Three Corner Coffee Roaster, based in Phnom Penh. They are committed to encouraging the development of the Cambodian coffee industry, whilst helping underprivileged Khmer men and women, and producing high quality Khmer products for responsible consumers.
Breakfast
Two Eggs Any Style
with sautéed cherry tomatoes and toast
2.50
Seasonal Fruit Salad
local fresh fruits with Cambodian honey
2.50 (add muesli + 0.50, add yoghurt + 0.75)
Pancakes with local fruits
with sliced seasonal fruit and Cambodian honey.
3.25  (add ice cream scoop +1.00)
Ham Omelette 
with mushrooms, bell peppers, onions/spring onions, cheddar cheese, sautéed cherry tomatoes and toast
3.75
Add-ons:
Bacon 1.25   Pork sausage  1.25  Ham 1.00  Avocado 1.00 Baked beans 0.75  Potato rosti  0.75 Sautéed mushrooms 0.50 Toast (white or sourdough) 0.75

Khmer Noodle Soup (vegan)
Cambodian soup noodles with seasonal vegetables and condiments (miso paste, crispy garlic, fresh chili, miso paste, bean sprouts)
3.75   (add fried tofu +0.75  chicken +1.00)
Khmer Pork Rice
pork loin marinated in Khmer spices, served with egg omelette slices, pickles and white rice
3.50
Smashed Avocado with Poached Eggs
served on sourdough toast with sautéed spinach
large (2 eggs/toast) 5.50      small (1 egg/toast) 3.50
Big Vegan Fry-up *gluten free
mushroom & corn pancake, vegetable curry balls, potato rosti, sautéed mushrooms, spinach, sautéed cherry tomatoes, baked beans, served with scrambled tofu with bell peppers and cumin
5.75
New Leaf Full Breakfast
two eggs (any style), bacon, sausage, sautéed mushrooms, potato rosti, corn & mushroom pancake, sautéed tomato, baked beans & toast
6.25
Crown your morning!
with one of our energetic and refreshing drinks
3.00
Tropical Surprise
---
pineapple, banana, mango & milk, served with lime
Red Sun
---
carrot, beetroot, ginger & mint
Mango Passion
---
passion fruit, mango, mint and lime
Georgie's
Porridge
---
milk, banana, coconut milk & muesli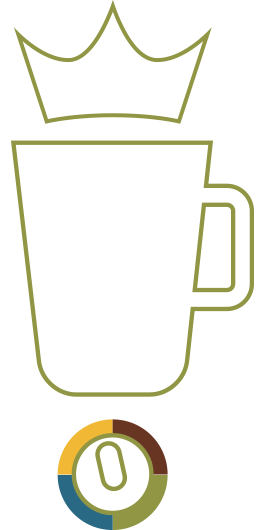 Appetisers
New Leaf Fries (vegan)
locally grown sweet potatoes & potatoes, served with house made garlic mayonnaise
2.75
Bruschetta 
freshly baked garlic bread topped with tomato concassé, shallots, sweet basil and olive oil
3.25
Scotch Quail Eggs
boiled quail eggs wrapped in pork sausage meat, dipped in breadcrumbs and lightly fried.  Served with honey mustard and a Khmer dipping sauce.
4.00
Fried Vegetable Spring Rolls (vegan)
filled with white cabbage, spring onion, carrot, taro root, mushroom, served with sweet chili sauce
3.25
Crispy Chicken Wings
served with two Khmer dips; sour chili and sesame/lime
3.75
Chicken Quesadilla  
with Cheddar and Grand Padano cheese, served with roasted red pepper puree, house-made salsa, guacamole and sour cream
5.00
Soups
Pumpkin & Coconut Soup (vegan)
pureed pumpkin, garlic, onion, lemongrass, blended with coconut milk, served with toast
3.50
Potato & Leak Soup  
Mondulkiri grown potatoes, garlic, onion, leek and cream, served with toast
3.50
Salads
Spicy Green Mango Salad  *contains nuts (vegan)
with julienned carrot, chili, shallot, sweet basil leaves, tossed with khmer dressing and slow roasted peanuts
4.00
Minced Pork Salad
bell pepper, shallot, garlic, white cabbage, long bean, kaffir lime leaves, mint leaves, sprinkled with fine crispy rice
5.00
Avocado, Chick Pea & Beetroot Salad (vegan)
chick peas, avocado, cherry tomato, bell peppers, cucumber, onion & parsley with a light mustard dressing, served with beetroot slices, falafel and avocado dip
5.25
Spicy Grilled Beef Salad  *contains nuts
sliced grilled tenderloin served on a bed of bell peppers, white cabbage, long bean, shallot, garlic, mint and sweet basil with a roast chili dressing
5.50
Avocado Nicoise Salad 
canned tuna, avocado, black olives, potato, long beans, bell peppers, cherry tomato, boiled egg, romaine lettuce, red lettuce, dressed with red wine vinaigrette
5.50
Ready to rustle some leaves!
All our signature cocktails use Cambodian ingredients. We hope you enjoy them!
Sombai is infused rice wine, made here in Siem Reap and available in 8 distinct flavours.
It is pronounced as "Som Bai", which means "some rice, please" in Khmer, and has been an instant success, either drunk on its own or as the perfect mixer for a cocktail.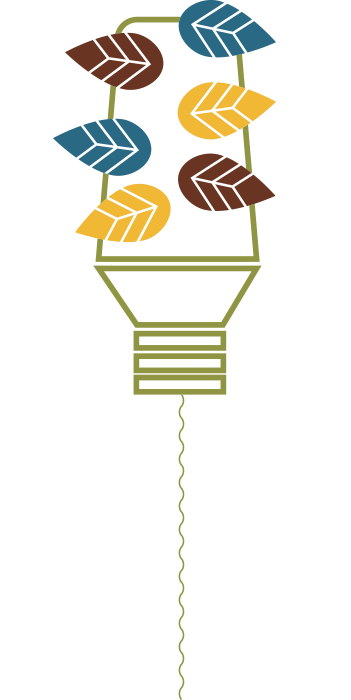 Cambodian Espresso Martini
---
Cambodian cold-brew coffee, Stoli vodka, Kahlua and a splash of Baileys
Old Market
---
Siem Reap's Manhattan; Jim Beam, Anise-Coffee Sombai, Baccardi Gold & XO Muscle Liquor.
Red Passion
---
vodka, fresh passion fruit, cranberry juice
Mango Mojito
---
local mangoes, rum, mango-green chili Sombai, mint, lime juice and soda
sandwiches & western main courses
Roast Bell Pepper Wrap (vegan)
house-made wrap with bell peppers, long beans, tomato, shallots and fresh tomato concasse, served with falafel, fries and avocado dip
4.75
Club Sandwich
triple layer Normandie toast with bacon, ham, grilled chicken,
fried egg, tomato, lettuce, served with sweet potato/potato fires, Khmer pickles and salad leaves
5.75
Steak Sandwich
open-faced baguette with horseradish mayonnaise topped with honey mustard & balsamic glazed onions, fresh tomato, rocket leaves and melted cheddar cheese, served with fries and Khmer pickles
6.75
New Leaf Burger
house made beef burger topped with a fried egg, lettuce, tomate, onions, cheese,served in a bun with fries and Khmer pickles
6.25 (add bacon +1.00)
Chili Sin Carne (vegan)
with kidney beans, lentils, corn, carrot, onions, garlic, shallots, chili, cumin, served with flat bead, corn chips and guacamole & bell pepper dips
5.25
Grilled Chicken
with potato & onion/leak mash, cheddar melted cheese and pesto, served with a side salad
5.75
Fish & Chips
breaded freshwater fish and fries, served with salad leaves and house made tartar sauce
5.75
Pork Chop Schnitzel
breaded pork chop schnitzel, served with sweet potato mash and a side salad
6.25
Khmer main courses
Fried Rice (vegan)
with oyster mushrooms, carrot, long beans, cauliflower, tomato, shallot and spring onions
3.25  (add chicken/pork +1.00)
Local Mixed Vegetables (vegan)
sautéed seasonal mixed vegetables with fried tofu, with choice of local brown or white rice
3.75
Vegetable Curry  (vegan)
sweet potato,
 pumpkin, long beans, cauliflower, broccoli, eggplant, Khmer spices, coconut milk and onion
choice of brown or white rice
4.75   (add fried tofu +0.75  chicken/pork +1.00)
Steamed Tofu Amok (vegan)
served as traditional (with Amok spices, coconut milk; and modern: with tumeric and paprika)
choice of local brown or white rice
4.75
Hot & Sour Noodles
yellow noodles, chicken, egg, bean sprouts, tofu, garlic, shallot, chili flakes and sweet tamarind sauce
5.25
Smoked Chili Cashew Chicken
marinated chicken with cashew nuts, green/red bell peppers, carrot, spring onion/onion and dried smoked chili
choice of local brown or white rice
5.75
Steamed Fish Amok (two ways)
steamed freshwater fish served both as traditionally with Amok spices, coconut milk and egg, and a modern twist with turmeric & paprika.
choice of local brown or white rice
6.25
Beef Lok Lak
sliced tenderloin fillet, served with traditional "Lok Lak" sauce and white rice topped with a fried egg
6.75
Sweet
Ice Cream (per scoop)
dark chocolate, white chocolate, vanilla or mango
1.75
Fruit Salad
seasonal fresh fruits with Cambodian honey
2.50 (add muesli +0.50   yoghurt +0.75)
Chocolate Tart
layered white chocolate & dark chocolate tart, garnished with caramelised cashew nuts and crispy sticky rice
4.50
Sticky Mango Rice
ripe mango served on a bed of sweetened sticky rice
3.50